Board Certified Orthopedic Surgeon
Brandon Morris, M.D.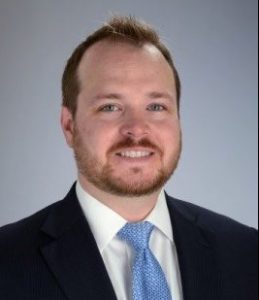 Dr. Brandon Morris is a native of Fort Collins, Colorado. He graduated with honors from Dartmouth College, obtained his medical degree at the University of Colorado School of Medicine in 2013 and completed his orthopedic surgery residency at the University of Kansas Medical Center in Kansas City, Kansas. He then elected to pursue two additional years of specialized surgical training, spending one year completing an orthopedic foot and ankle surgery fellowship at Harvard University and Massachusetts General Hospital in Boston.
Dr. Morris completed his fellowship training in orthopedic sports medicine at University of Kansas Health System, where he gained extensive experience in caring for athletes of all levels, including Kansas City area high schools, University of Kansas Athletics, the Kansas City Royals and the Kansas City Chiefs. Dr. Morris is board certified by the American Board of Orthopedic Surgeons in General Orthopedics.
"Having grown up on a small farm and participated in 4-H as a youth, I welcome the opportunity to return to my rural roots and serve the communities of Southeast Kansas and am excited to join the medical staff at Labette Health," says Dr. Morris. "I look forward to adding my expertise in sports medicine and foot and ankle surgery to the orthopedic center of excellence that exists at Labette Health and Southeast Kansas Orthopedic Clinic. My training has focused on the treatment of orthopedic conditions involving the shoulder, hip and knee, as well as the foot and ankle."